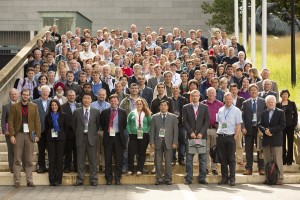 The 6th European Conference on Precision Livestock Farming (EC-PLF 2013) took place in Leuven, Belgium on 10-12 September 2013.
The conference brought together more than 220 researchers from 31 countries with different backgrounds, disciplines and a different career stage to jointly discuss the latest developments in Precision Livestock Farming. 110 papers on different species like pigs, chickens, cows, horses, and sheep were presented. There was also an interesting session on aquaculture.
Members of the EU-PLF consortium presented their first results and discussed the progress of the project during the 2nd General Assembly.
The results of the conference are available in the book of Proceedings.
The next EC-PLF conference will be held in Milan in 2015.
For pictures from the EC-PLF 2013, visit here.