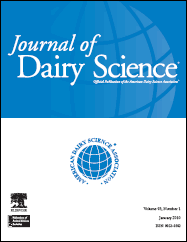 The "Invited review: Sensors to support health management on dairy farms" written by Niels Rutten, Annet Velthuis, Wilma Steeneveld and Henk Hogeveen is the most downloaded article from the Journal of Dairy Science.
Of all articles published between January and August 2013 this paper was the most downloaded article. The Journal of Dairy Science is one of the top five journals in the field of agricultural, dairy and animal science according to the ISI ranking.
About the authors:
Niels Rutten is a PhD-student at the Department of Farm Animal Health, Faculty of Veterinary Medicine, Utrecht University. His PhD research focusses on the application and utility of sensors, particularly activity meters for reproductive management on dairy farms
Annet Velthuis worked as assistant professor at the Business Economics Group of Wageningen University (now she is working at GD Animal Health Service).
Wilma Steeneveld works as a postdoc at the Business Economics Group of Wageningen University. The focus of her research is on the economics of sensor technology in dairy farming.
Henk Hogeveen is associated professor of Animal Health Management at the Business Economics Group of Wageningen University.
Wilma and Henk are also participating in the EU funded project EU-PLF, which aims to translate research results for PLF into a practical blueprint that benefits the animal, farmer, environment and consumer.
Summary of the article contents:
The review presents an overview of the sensor systems (that is, sensors plus software) that have been published for dairy health management. Dairy farmers can use sensor systems to improve animal health and welfare on dairy farms, which in turn helps increase profitability. The usefulness of such sensor systems depends on the level of development, which is described in the review through a framework that includes 4 levels: technique, interpretation of data, integration of information, and decision making. The sensor systems are compared based on this framework. The review provides information about the possibilities and limits of published sensor systems, as well as suggestions for future research.
You can read the full abstract of the article here.