The Pig Cough Monitor (PCM) brings real added value and has huge potential as an early warning system for the respiratory health of pigs.
The PCM is a PLF technology that enables continuous automated measurement of porcine respiratory health. It was released in 2011 in a combined effort between SoundTalks and Fancom. Within the EU-PLF project, the PCM has been implemented in 10 commercial farms geographically distributed in Europe in order to test the robustness of the technology in diverse situations.
In addition to the physical equipment used (Figure 1), the core of the PCM is an algorithm that isolates the pig coughs from all other sounds in the barn. The outcome of the PCM sensor is a cough-index over time. In this experiment, the cough index was compared with real time observations by experts and with logbook entries detailing events that may have influenced the respiratory status of the pigs (Figure 2).
Preliminary results from three selected European farms show that the PCM is an excellent tool to monitor the intensity of coughing under various conditions. It accurately detected an acute respiratory problem occurring in one compartment of a farm while another compartment was unaffected. In another instance, the PCM detected an increase in coughing that was clearly associated with a failure in the ventilation system. In a third case, the cough monitor detected an increase in coughing that was not noticed by the farmer, which shows that the PCM is able to detect anomalies that are not apparent to human observation in practical conditions on the farm.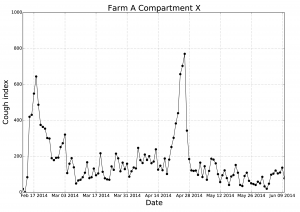 The initial results shown in the three cases clearly demonstrate the potential of cough monitoring as a farm management tool: relative increases in the cough index level are related to actual events occurring on the farms. This gives the potential for farmer to detect problems early and then quickly intervene. This is particularly critical and valuable as in first case where acute respiratory problem was detected. The PCM can provide early warning signs to the farmer who then can provide prompt treatment rather than detecting problems too late.
The above is a summary of the paper "Pig cough monitoring in the EU-PLF project: first results" presented at the Joint EAAP/EU-PLF sessions of the EAAP Annual Meeting in Copenhagen (www.eaap2014.org/general-programme/scientific-programme). For more information on the paper contact: martijn.hemeryck@soundtalks.com.
The proceedings of the Joint EAAP/EU-PLF sessions of the EAAP Annual Meeting in Copenhagen will be published in April 2015 by Wageningen Academic Publishers.