A pilot study undertaken within EU-PLF project describes how automated on-farm measurements of climate, feed intake, animal growth and camera and sound based precision livestock (PLF) farming methods (eYeNamic) can be used to evaluate health and welfare parameters of chickens that are required to comply with Council Directive 2007/43/EC.
Although there are benefits associated with the Directive, which sets welfare standards for keeping chickens (broiler chicken) for meat production, there are also costs in terms of time and resource allocation for both assessment and enforcement. For practical reasons and the large scale of total animals to be evaluated, there is significant interest in finding a cost-effective automated way of measuring and assessing.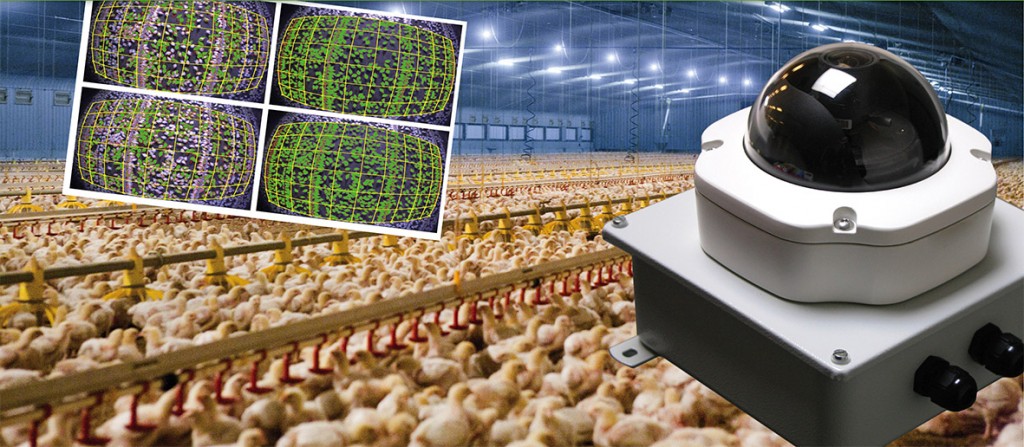 In the pilot study, measurements derived from eYeNamic were validated against those derived from the direct observation of the broilers and their environment by human assessors. The aim was to determine whether automated measurements could be good predictors of the outcome parameters that are required by the Directive to assess the health and welfare status of the animals.
Food pad dermatitis, hock burn, walking ability (Gait Score), avoidance distance touch tests and response to the stockman have been identified as having high potential for on-farm automated measurements. Some of these 'measurements' can fulfil the requirements of the Directive as well as being useful to commercial broiler production companies. On the other hand, breast lesions, cellulitis, emaciation, joint lesions, scratches and wing fractures were identified as being difficult or impossible to assess on farm, but possible in the slaughterhouse.
The above is a summary of the paper "Facilitation of assessment of technical measures and its potential for implementation of the Broiler Directive (2007/43/EC)" presented at the Joint EAAP/EU-PLF sessions of the EAAP Annual Meeting in Copenhagen (www.eaap2014.org/general-programme/scientific-programme). For more information on the paper contact: andy.butterworth@bristol.ac.uk.
The proceedings of the Joint EAAP/EU-PLF sessions of the EAAP Annual Meeting in Copenhagen will be published in March 2015 by Wageningen Academic Publishers.