Heiner Lehr (Syntesa) recently gave a webinar on Smart Pig Farming for school children aged 14-16 years as part of CommNet, a European project to promote the dissemination of results of EU research.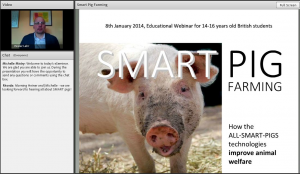 Consumer expectations on livestock farming are very different from the reality of modern farms. Partly this is due to the livestock industry's own marketing, partly this is due to consumers turning a blind eye to the requirements of modern meat production. As a result, there is a general consumer trend that considers on-farm technology detrimental to animal welfare. For the acceptability of Precision Livestock Farming (PLF) this is a view that needs some qualification. The webinar targeted school children in the age range of 14-16 who most likely do not have a strong preconceived view about the use of technology on farms. The presentation aims to exemplify how smart technology on farms can work in favour of both animals and farmers.
The web seminar on January 8th 2014 was developed and executed in collaboration with the British Nutrition Foundation, a UK body promoting healthy eating habits. The 40 minutes webinar was recorded and is available here.