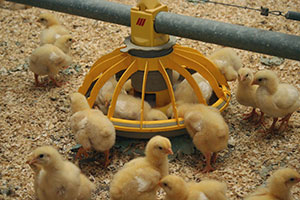 Work Package 1 addresses Key Indicators (KIs) and their Gold Standards (GSs) related to the domains: animal welfare and health, productivity and environmental load.
1.1 Determine existing animal key indicators and gold standards in the domains animal welfare and health, productivity and environmental load
A set of KIs for the different domains in dairy and broiler production, and for fattening pigs related to respiratory health, will be described based on expert consultation and literature review as well as results from EU projects such as Welfare Quality, European Animal Welfare Platform and others. Together, the set of KIs for a specific domain will be able to capture the main aspects of the performance of a farm in that domain at a specific point in time.
Reference methods for determining the value of each KI will be defined. In addition, a standardised way of reporting the incidence / severity or extent of that KI will be chosen according to available knowledge and experience. The resulting 'Gold Standards' are only used during the project as a reference to test and validate the performance of the PLF techniques in measuring these KI's at farm level.
1.2 Define and investigate new Key Indicators that can be measured with PLF technologies
This task will investigate a number (1-2) of PLF technologies that are identified in Task 2.1 as delivering data that require additional work to match the outcomes of specified new KIs and their gold standards.
The final choice of PLF-technologies to be further developed in the project will be made through a consultative process and by a 'cost benefit' analysis (including results from Working Package 4 on Value Creation) which will identify the relative predicted potential benefit versus the likely probability of the technology delivering results within the timescale of the project.
1.3 Train regional people to apply gold standards and apply gold standards in the field tests carried out in Working Package 2
Domain experts will further analyse the outcomes of the measures performed within WP2 regarding their use for on-farm management. This includes setting thresholds beyond which an action is necessary and defining optimal response strategies. Local assessors will be trained to enable repeatable and harmonized application of Key Indicators on the farms recruited to the project.