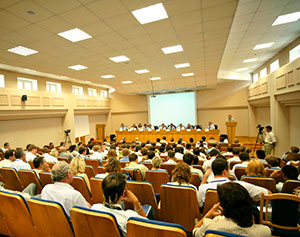 The overall objective of Work Package 7 is to disseminate information about the project and project results through different channels among the scientific community, stakeholders related to PLF and other interested parties. This shall be achieved through the following specific objectives:
7.1 Create website, other dissemination material, press releases and establish an Internet community
A website will be built and organized into a restricted and public area.
A newsletter with information from the different project activities will be published at regular intervals.
After project start and towards the end of the project 2 000 copies of the project brochure (leaflet) will be published on paper and the electronic support will be produced in the website. The brochure presents the aims of the Project and selected outputs of EU-PLF. The brochures will be delivered at the specific workshops of the project and at ICAR, EAAP and other technical and scientific meetings.
Dissemination will also be carried out through scientific and popular articles in regional/local agriculture, precision farming and food magazines in different languages. Disseminating articles in specific magazines co-owned by EAAP, like Animal Frontiers will also be published. To reach an even wider public, popular high level magazines will be approached in a pro-active manner to create interest for the project topic and get press releases and/or articles published.
7.2 Create E-learning courses
The project will produce interactive e-learning training and awareness materials that will be subsequently used for wider dissemination of project outputs by the industry and also by educational institutions and by trainers. The courses will be freely accessible from the project website.
7.3 Organise workshops and international project conference
In total 3 workshops and one international project conference will be organised. The platform of the workshops will be used by the project partners to present project results per Work Package as well as to progress in the project, e.g. stakeholders will be invited to discuss issues regarding the social and economic aspects. The dissemination of practical application from the research activities will be delivered nationally through animal farmers' discussion groups. Such groups will act in cooperation with national farmer organizations.
7.5 Disseminate blueprint
A strategy will be developed and applied to promote and disseminate the final blueprint. All stakeholders of the supply chain must be allowed to access the blueprint. Therefore it is foreseen to use the wide range of the existing distribution channels as described in the Work Package.