The final conference of the EU-PLF project will be held in Brussels, Belgium on the 29th September 2016, Résidence Palace – 155, rue de la Loi.
Agenda | Registration (closed) | Accommodation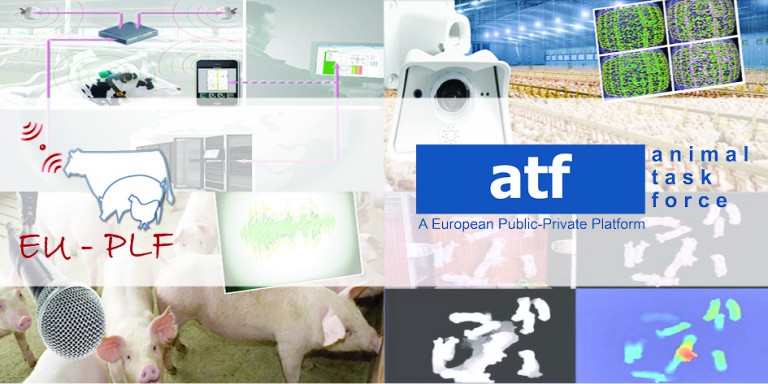 It will be co-organised by the Animal Task Force.
Come join us as we share the results and experiences of the four year EU-funded project and as we discuss the future of farming in Europe! You can register here.
Final agenda
8:30 Registration
9:00 Welcome
Prof Daniel Berckmans – KU Leuven
09:15 Video: Smart Farming for Europe
09:20 Results and experiences from broiler farms + Q&A
Prof Erik Vranken – Fancom B.V
09:50 Results and experiences from pig farms + Q&A
Dr Dries Berckmans – SoundTalks N.V
10:20 Coffee break
10:45 Results and experiences from dairy farms + Q&A
Dr Isabelle Veissier – INRA
11:15 Economic feasibility of PLF + Q&A
Prof Henk Hogeveen – Wageningen University
11:45 Testimonies of high tech start-ups in Precision Livestock Farming
11:45 PigWei: handheld device for precise and fast weighing of livestock pigs
Dr Ivan Amat-Roldan – Ymaging
12:00 High definition gait capturing & analysis – Results of the field tests
Dr Patrick Van De Vyver – Bainisha
12:15 Making Sense of Sensor Data
Ir. Yasir Khokhar – Connecterra
12:30 An automatic 24/7 diagnostic system for hoof diseases in bovine
Marzio Miodini – Cowmatix
12:45 Lunch
13:45 Farmers' engagement in using PLF technology – Report of the EU-PLF farm visits
Prof Jörg Hartung
14:05 Can PLF create value for European farmers?
Dr Heiner Lehr – Syntesa
14:30 Farmers' vision for the future
14:30 Mr. David Speller – Broiler farmer
14:40 Mr. John Verhoijsen – Pig farmer
14:50 Ms Tina Dahl – Cow farmer
15:00 Animal Task Force's vision on Precision Livestock Farming
Dr Jean-Louis Peyraud – ATF
15:15 Coffee break: Interactive e-learning session and blueprint
Dr Michel Bonneau – EAAP
15:45 Panel discussion
Dr Heiner Lehr – Syntesa
16:45 Closing of Conference
Prof Daniel Berckmans – KU Leuven
17:00 Reception
Registration
(closed)
Register soon so that a place is reserved for you.
Accommodation
We do not have a recommendation for a particular hotel. However, below, we have listed some of the closest hotels based on distance from the conference venue. There are other types of accommodation such as bed and breakfast and apartments, but we only list hotels below. We have also tried to list hotels based on availability on the conference date and by several different price range as based on the http://www.booking.com website.
As accommodation in Brussels can easily get full, we suggest that you make you reservations as soon as you know your travel dates. On average, there are more options in regards to the types of hotels and costs around the centre of Brussels. We provide websites when available but sometimes prices can be cheaper when reservations are made through aggregate services such as www.booking.com, www.hotels.com, and www.agoda.com rather than directly through the hotel.
Within 5 minutes (walking)
Hotel Silken Berlaymont Brussels ****
http://www.hoteles-silken.com/en/hotels/berlaymont-brussels/
€130 per night, single occupancy
First Euroflat Hotel ****
http://www.firsteuroflathotel.be/index.php/en/
€155 per night, single occupany
Within 10 minutes walking
Hotel Martin's Brussels EU ****
http://www.martinshotels.com/en/hotel/martins-brussels-eu
€150 per night, single occupancy
Aloft Brussels Schuman EU Hotel ***
http://www.aloftbrussels.com/
€195 per night, single occupancy
Holiday Inn Hotel Brussels-Schuman ***
http://www.ihg.com/holidayinn/hotels/us/en/brussels/brubr/hoteldetail
€170 per night, single occupancy
Within 25 minutes walk (10 minutes by metro) and closer to central Brussels
Motel One Brussels
http://www.motel-one.com/en/hotels/brussels/hotel-bruessel/
€90 per night, single occupancy
ibis Hotel Brussels off Grand'Place
http://www.accorhotels.com/gb/hotel-1046-ibis-brussels-off-grand-place/index.shtml
€155 per night, single occupancy
NH Brussels Carrefour de L'Europe ****
http://www.nh-hotels.com/hotel/nh-brussels-carrefour-de-l-europe
€155 per night, single occupancy
9Hotel Central ***
http://www.le9hotel.com/en/h/9-hotel-central
€175 per night, single occupancy
Hotel Sandton Brussels Centre ****
http://www.sandton.eu/sandton-brussels-centre/en/
€190 per night, single occupancy