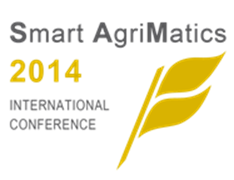 Kees Lokhorst, EU-PLF WP4 participant, will chair Session 1.3 entitled Smart Livestock Farming in the Smart AgriMatics 2014 International Conference. This year's conference theme is: The future use of ICT and robotics in agriculture and food business.
A group that is participating in the EU-PLF's SME contest through its WP5 will also present in Session 1.3 on a new method that estimates pig's weight based on computer vision and embedded data analysis from 2D images in standard farm conditions (i.e. multiple pigs, different angles,…). Their presentation is titled: Automated Pig Weighting based on computer vision of 2D images and will be supported by Daniel Rosés, Maurice Mergay, and Johan Van den Bossche who are all part of EU-PLF's WP5.
Smart AgriMatics 2014 will take place from 18-19 June in Paris, France and Session 1.3 will take place on the 19th.
For more information on Smart AgriMatics 2014 visit the its website