Recent findings from work conducted within the EU-PLF project suggest that the incidence of foot pad dermatitis and hock burns could be predicted from data collected by Precision Livestock Farming tools. The research was performed at the Universities of Leuven, Milan and Wageningen UR as well as at the Fancom research department.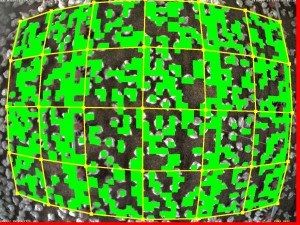 The presence of lesions on broilers feet and legs is indicative of reduced animal welfare because they affect the capacity of the animal to move and express normal behaviour. In the most severe cases, the capacity of the animal to feed and drink normally can also be impaired.
Alberto Peña Fernández and co-workers have shown that monitoring the distribution and activity of the birds with the Fancom EyeNamic system can give insight on the incidence and severity of foot pad lesions and hock burns in broilers. The authors conclude that "deviations in activity patterns seem to be related to hock burn lesion scores, while unexpected changes in distribution patterns seem to be more [associated with] foot pad lesions scores".
Emanuela Tullo and co-workers found that data obtained from fully automatic climate control systems can predict the likeliness of increased occurrence of foot pad lesions and hock burns in broilers. As stated by the authors in their conclusion, the "identification of a relationship between […] the time spent outside the optimal thermal and humidity ranges […] and the welfare assessments could serve as the basis for developing models and algorithms which are capable of automatically detecting thresholds above which lesions are most probable".
Both studies strongly suggest that Precision Livestock Farming tools could give a warning to the farmer when the conditions in the house are not good enough, increasing the likeliness of lesions which negatively affect both the welfare and performance of the birds. The results are still preliminary and need confirmation with observations conducted on more animals and more farms. More information can be obtained from Alberto.PenaFernandez@biw.kuleuven.be or emanuela.tullo@unimi.it.