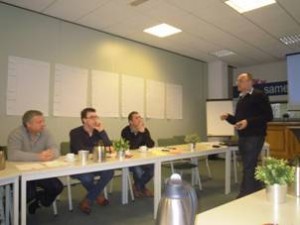 Last February, EU-PLF organised a workshop on socio-economic issues in the Benelux area in the frame of WP4 "Value creation", task 4.1. Different stakeholders from The Netherlands and Belgium were invited, and covered some important players in the food chain, such as premix/concentrate producers, feed producers, farmers (pig, poultry and cattle) and slaughterhouses.
The workshop took place in Sterksel, The Netherlands, and the participants discussed in an interactive way following issues from a socio-economic point of view:
Energy (-neutral, 0-energy, energy producing)
Environment (emission, air quality, manure…)
Preventive operations and animal welfare (tail biting, boar taint, I&R, transport…)
Animal health (antibiotic free, farm based diseases, zoonosis…)
Product differentiation
Food safety
As a conclusion, it was clear that main drivers in the social and economic area are: communication, transparency, timeliness, dynamics, "take care of", certainty/risk…
These results and crosschecks with literature were further used 1) for performing two in-depth interviews (see below) with fully integrated production chains in Southern Europe, and 2) to design a qualitative questionnaire in order to gather a more European opinion. The main goal of this task 4.1 is to get insight in the key social and economic indicators that are influenced when PLF products and services introduced in farming systems and was the basis for task 3.2
In-depth interview with integrated pig companies in Catalonia
The Value Creation Group continues to analyse the feed – animal – food chain to detect where Precision Livestock or SmartFarming technology may add to the socio-economic value creation. It was decided early in the project to conduct a brainstorm session with Dutch farmers and some in-depth interview with integrated operators in Catalonia (Spain). For this purpose the Value Creation Group (VCG) interviewed one of the largest players in the region, Grup Alimentari Guissona, which specialises in providing standard products at exceptional prices, and Grup Batallé, a group that specialises in genetics and attempts to provide higher quality to the consumers. Both groups are active in Spain, but Grup Batallé also exports internationally a larger part of its production, whereas Grup Alimentari Guissona delivers its products directly to its diverse outlets (supermarkets, buffets, HORECA and on-line shop). Both companies showed a strong interest in the pig farming technology that the project is evaluating. Follow-up activities have been agreed upon.